July 20th, 2022

Category: performance
77
---
77 is an immersive performance and at the same time a trip into the unconscious in a world in burn-out. 77 est une performance immersive et au même temps un voyage dans l'inconscient dans un monde en burn-out.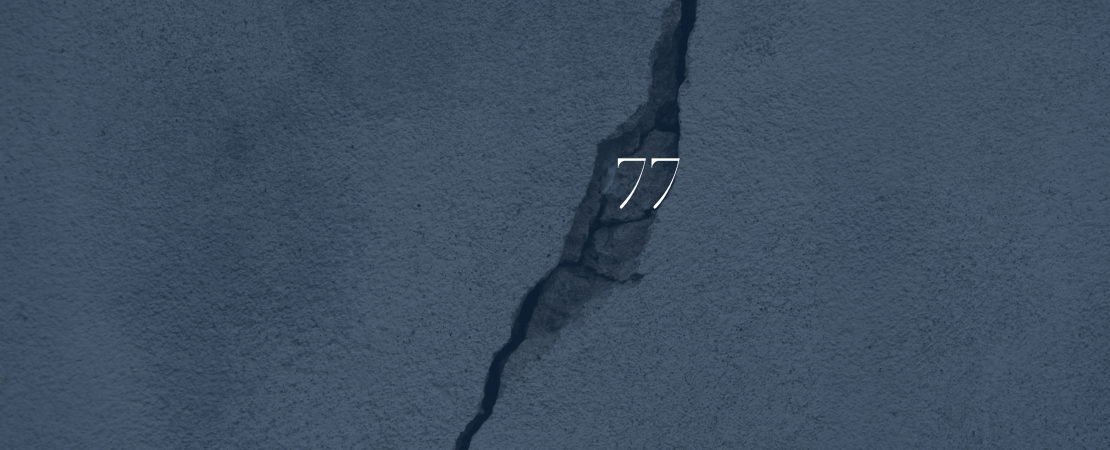 What is 77? The title of the performance is the magical number 77. The number is a combination of 2 parallel shapes which point to the parallel universe each character is in. 
Attending the performance of 77 is attending a tableau vivant. The characters are barely acting. The audience is a witness of what they are saying and they are saying they feel lost, confused, damaged, without any hope, with only emptiness.
Their vocabulary is similar: a lot of words are lost too (little vocabulary is remaining), a lot of it is confusing, chaotic (as if it doesn't matter anymore to be logical or clear). The vocabulary is damaged (failing to make communication, becoming repetitive, as if it is useless to communicate, as if they are too bored to communicate).
77 is dark, going down, deep down into the heart of darkness, exploring a world that is too sick to breathe in, to feel for or to care about. It's a world in which everything dies : life, love, language, limbs and longing. The end has never been so near, so tangible and so sensitive.
The artistic process started from the blue paintings of Francis Bacon and dug its way deeper and deeper through The Waste Land of TS Eliot and Les Fleurs du Mal from Charles Baudelaire because they provided the inspiration and the spirit 77 felt connected with. And what you see is what you get from this.
Details
Concept, text and director: Axel Dhondt
Performers: Olha Ostapenko, Sarah Philippe en Axel Dhondt
 
Performances Ghent Festival
20 and 21 July 2023 both at 17.00h. and 20.00h at the venue Nieuwe Sikkel, Nederpolder 2 Gent 
Please book your seat as seats are extremely limited
Wat is 77? De titel van de performance is het magische nummer 77. Het nummer is een combinatie van 2 parallelle vormen die verwijzen naar het parallelle universum waarin ieder personage vertoeft. Het bijwonen van de performance 77 is als het kijken naar een tableau vivant. De personages acteren amper. Het publiek is niet meer of niet minder dan een getuige van wat ze zeggen en wat ze zeggen is dat ze zich verloren voelen, verward, beschadigd, zonder enige hoop op beter, achterblijvend in de grote leegte.
Hun woordenschat is navenant: veel woorden zijn ook verloren gegaan. Er zijn nog amper woorden over en als ze overgebleven zijn, maken ze deel uit van een verward, chaotisch discours omdat er geen reden is om te streven naar duidelijkheid en logica als die er toch niet te vinden is. De woordenschat is aangetast. Communiceren gaat niet. En als er wordt gecommuniceerd, wordt er gebruik gemaakt van de herhaling om de stiltes te vullen en omdat communiceren nutteloos is en vervelend.
77 is donker. Het duikt de diepte in, in een wereld  die te ziek is om in te ademen, om in te voelen om ergens om te geven - een wereld waarin alles aan het afsterven is: leven, liefde, ledematen, taal en verlangen. Het einde voelde nooit zo nabij, nooit zo tastbaar, nooit zo sensitief. 
Het artistieke proces dat aan de grondslag lag van 77 vertrok vanuit de blauwe schilderijen van Francis Bacon, en baande zich verder een weg via The Waste Land van TS Eliot en de gedichten Les Fleurs du Mal van Charles Baudelaire. Zij boden de inspiratie en de sfeer die affiniteit vertoonde met 77 en wat je ziet, komt daaruit voort.
Details
Concept, tekst en regie: Axel Dhondt
Performers: Olha Ostapenko, Sarah Philippe en Axel Dhondt
 
Speeldata Gentse Feesten
20 en 21 juli 2023 steeds om 17.00u en 20.00u in zaal Nieuwe Sikkel, Nederpolder 2 Gent 
Reserveren is nodig want de plaatsen zijn beperkt
Qu'est-ce que 77? Le titre de cette performance est le nombre magique 77. Ce nombre met en parallèle deux silhouettes qui évoluent chacune dans un univers qui lui est propre. Composant un véritable tableau vivant, les personnages s'agitent à peine sous le regard du public, témoin de l'expression de leurs perditions, de leurs confusions, de leurs blessures, de leurs désillusions dénuées de tout espoir, de leur seule vacuité.
Pour chaque personnage, le minimalisme des répliques souligne les cassures d'un langage épuisé, incomplet, chaotique, répétitif, abîmé par tant d'incommunicabilité entre les parties. Désormais, il n'importe plus d'employer un vocabulaire logique ou compréhensible, juste d'exprimer un sentiment anarchique voire apocalyptique.
77 explore la noirceur en sombrant de plus en plus profondément dans les ténèbres, en explorant un monde vicié, étouffant, insensible et cruel. Dans ces profondeurs, tout meurt : la vie, l'amour, les mots, les membres, et même le désir. C'est la fin de tout, si proche, si perceptible, presque palpable.
En termes d'inspiration, l'origine du processus artistique de cette performance réside dans la série Man in Blue  de Francis Bacon. Par la suite, la poésie de TS Eliot (The Waste Land) et de Charles Baudelaire (Les Fleurs du Mal) s'est naturellement intégré à l'esprit ravagé de 77. Cette performance est le fruit hybride de ces influences artistiques.
Details
Concepte, texte, réalisateur: Axel Dhondt
Performers: Olha Ostapenko, Sarah Philippe en Axel Dhondt
 
Jours de présentation
20 en 21 juillet 2023 à 17.00h et 20.00h dans la salle Nieuwe Sikkel, Nederpolder 2 Gent 
Réservez en avant à cause des tickets limités